Cyber Security & Compliance
05/15/2020
Working From Home and the Effects of the Coronavirus
By Joseph Peters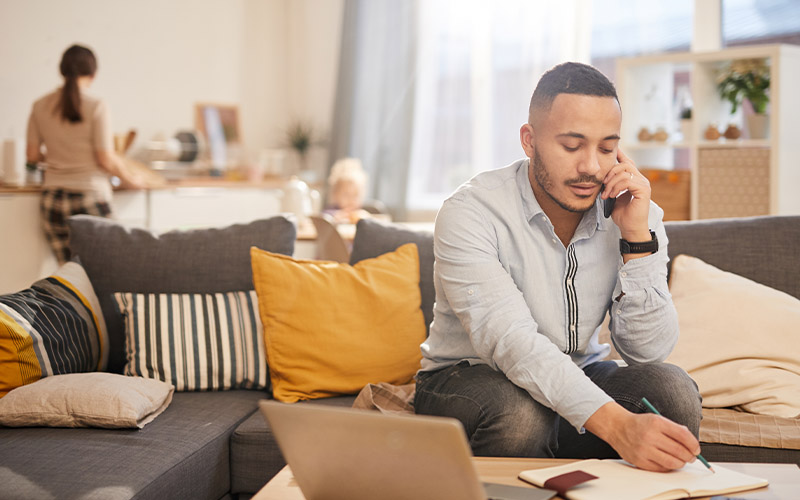 With the Coronavirus wreaking havoc around the world, various measures are being enforced to try and reduce the spread of this deadly illness—one of which is an order to stay home, unless you need food or medical attention, or in the event of an emergency.
But, while many companies are allowing their employees to work from home now, this has given rise to other potential dangers, including the threat of a cyberattack. Cyber threats have vastly increased during the Coronavirus pandemic.
If you or your company is an unlucky victim, the financial implications of a cyberattack can be devastating. For instance, it is estimated that roughly 60% of small businesses go under within six months of experiencing a data breach.
So, how can you reduce the chance of becoming a victim of cybercrime?
The good news is that you have several options.
How COVID-19 Can Increase Cyber Crime
While working from home can help to reduce the spread of the Coronavirus, it could also bring about increased danger in other areas—particularly the likelihood of becoming a victim of cybercrime and/or identity theft.
According to the Harvard Business Review, while the world is focused on the COVID-19 threat, cybercriminals around the globe will be poised to capitalize on the crisis. For example, more employees are working from remote locations now—and the increased flow of back and forth communications can be a treasure-trove for hackers.
One "strategy" that cybercriminals are using is phishing emails. These online messages—which look extremely similar to the real thing—will typically try to entice you to click on an "offer" that is related to Coronavirus protection.
But the reality is, though, that if you click on the link in the email, you could end up unknowingly downloading malware on to your device, as well as to your company's systems. And much like the Coronavirus, the attack can then increase exponentially.
Will You Become a Cyber Crime Victim?
As more online transactions take place every day, the likelihood of becoming a victim of cybercrime increases. Oftentimes, a crisis like Coronavirus will entice criminals to target even more victims.
The FBI has found a "significant spike" in COVID-19 scams, especially in areas of the U.S. like New York that have been hit the hardest so far by the virus. "These [cybercriminals] range from individuals to organized criminal gangs and nationwide threat actors. The vast majority would appear to be continuing to do what cybercriminals do: exploit the situation before them to maximize their gain."
So, while keeping your hands clean can help prevent the spread of one type of virus, making sure that you put protections in place from a cyber attack can also reduce the spread of online viruses.
What Individuals and Businesses Can Do to Reduce a Cybercrime Incident
Although there is no foolproof guarantee that you won't become a victim of a cyberattack, there are some strategies that you can put in place for reducing the odds. One method is to be extra careful when responding to emails—even if they appear to come from a reliable source.
With that in mind, you should ideally enable multi-factor authentication on any of the email accounts that you control. You should also contact the sender or the company directly as versus responding via a link or phone number that is given in the email you received.
Also, be careful about using wi-fi in public places, such as coffee shops. Even though the Coronavirus has kept most people at home for the time being, once life returns to "normal," protection from cybercrime should still be on your radar.
It is also recommended that you ensure all of your devices, including your internet router, are up-to-date on their anti-virus protection…just in case. Oftentimes, virus protection can stop an attack before you even realize you've been targeted.
Obtaining cybercrime insurance coverage can also provide an added layer of protection. These types of policies will often include preventive measures—such as credit monitoring – as well as coverage for reimbursement (usually up to a certain dollar amount) if you do end up as a victim of a cyberattack.
Types of Cyber Security Insurance
Just like other lines of insurance, cyber coverage can come in many different forms. It can also be geared for individuals or businesses. For instance, first-party cyber insurance can cover an insured for a wide range of issues, such as the destruction of data, online theft, hacking activities, and deliberate or accidental denial of service.
Because many businesses store the personal information of their customers, the victim of a cyberattack could be liable for the effect on them, too. Therefore, cyber liability insurance can provide coverage for data breaches, as well as the theft of the company's proprietary information, and even assistance with defamation and related negative publicity.
In any case, responding to a cyberattack is not only costly, but it can also be fairly complex. So, having someone else on your side, such as an insurance carrier, can be beneficial.
Taking the Next Step Towards Protection from Cybercrime
Cyber insurance can provide a long list of coverage options, including protection from the cost of data breaches and lost information, as well as for defense / legal costs, extortion, credit monitoring, and regulatory claims and penalties.
Because there are many forms of cybersecurity insurance, though, it can be beneficial to discuss your potential needs with an expert in the field. A cybersecurity insurance specialist can help you to narrow down your coverage options and provide you with policy quotes.
If you're ready to learn more about how to protect yourself and/or your business from a cyberattack, Gallagher Affinity can help. We offer a wide range of insurance coverage and protection from top-rated insurers.
Our experienced representatives are available to answer any questions that you may have and can assist you with getting your coverage in place quickly. You can contact a Gallagher Affinity rep directly by phone at (866) 389-0022. Specialists are also available to chat online through our website. Don't leave your personal or business information to chance. Secure your cybersecurity coverage today.