Insurance Agent Interests
10/14/2022
Networking Tips & Ideas All Insurance Agents Need to Know
By Jason Rogers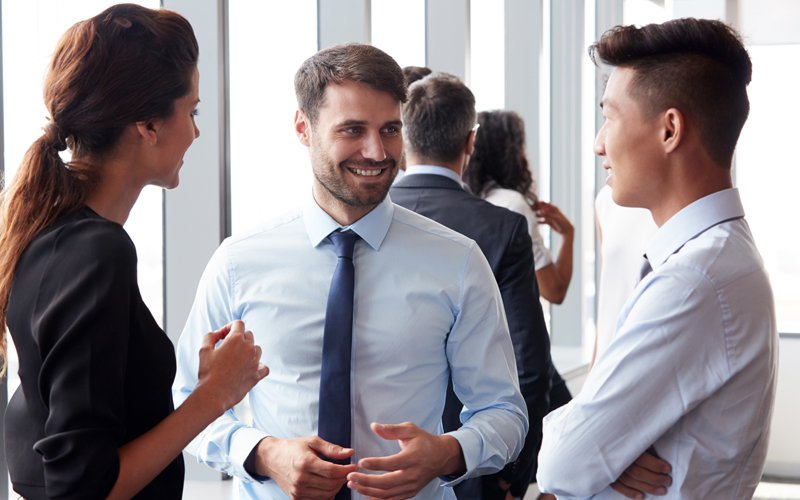 Networking is critical for any insurance agent looking to grow their business. Below are a few networking tips and ideas to help you connect with more people in your industry. Networking can assist with building relationships with potential clients, referral partners and other professionals in your field. It can also aid with learning more about the insurance industry.
What is networking?
According to the Columbia University Center for Career Education, networking is the process of making connections and building relationships. These connections can provide you with advice and contacts, which can assist you in making informed career decisions.
How to network more effectively
Attend networking events.
One of the best ways to network is to attend events that are specifically designed for networking. These events usually involve gathering a large group of people in one place, which makes it easier to make new contacts. You can find networking events by searching online or asking your local Chamber of Commerce.
Join networking groups. Another great way to network is to join groups designed for networking. These groups usually meet regularly, which allows you to build relationships with other members.
Grow your online presence.
Create a professional social media profile. Make sure your profile is up-to-date and includes information about your work, education and skills. You should also have a professional headshot.
Share information and tips. When you post helpful information, people will begin to see you as an expert in your field, ultimately attracting more clients and referral partners. People want to get to know you as the person behind the insurance agent— your social media platforms are an excellent place to demonstrate this.
Take advantage of online insurance networking groups. Connect with new people with similar interests to you through the communities on Facebook or LinkedIn. There are many online networking groups that you can join, which usually have members from all over the world.
Make sure you are using all channels available to you. LinkedIn and Facebook are both vital tools for insurance agents.
Using Facebook to network:
Find niche groups to join. You likely have already come across and even joined some of these with your personal Facebook page. There seem to be countless niche groups on Facebook, all of which give you direct access to members you know you can relate to.
Learn from these Facebook groups. Being a member and seeing posts will help you better understand what potential customers are interested in and might drive them to make a purchase.
Don't spam people. Whether you make your own group or join a niche group, don't spam that community with non-stop sales pitches. No one likes to feel like they are being sold to, so try and be subtle with your posts and add value to the group. If you are a group admin, delete any spammy posts from others.
Offer support when you can. If someone in your group asks a question, try to answer it and provide knowledge to the whole group, which will position you as an expert in your field.
For more tips on using Facebook to network, click here.
Using LinkedIn to network:
As with Facebook, taking advantage of LinkedIn groups is essential.
If you are writing blogs for your website, share them through your LinkedIn account. The same applies to blogs written by your company; if you can use them and it provides good knowledge, then you should share them.
Use LinkedIn ads to generate new leads.
Check here for more tips on how to network using LinkedIn.
Stay active in your community
Volunteer and give back when possible.
One of the best ways to grow your network is to stay active in your community. Volunteering is a great way to meet new people and make connections. It also allows you to showcase your skills and expertise. Giving back to your community shows you care and allows potential customers to see you more as a human than just another business.
Buy local.
Purchasing goods or materials from local companies support your area's economy and may even encourage business owners to work with you in the future. This will develop your positive reputation in the neighborhood as someone that supports your community by keeping your patronage local.
Whether out networking or working in the office, it is always a good idea to make sure you are protected from any errors. When you make an error or omission in the sale or servicing of a financial or insurance product, it can trigger a client lawsuit that can cost thousands of dollars to defend. When conducting business— even outside of the office— and providing advice or information that could result in a client suing, errors and omissions (E&O) insurance would protect you and your business.
Learn more and apply today in as little as five minutes.